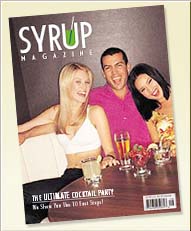 STOP LIGHT

INGREDIENTS

• 3 oz - Vodka
• 1 oz - Midori Melon Liqueur
• 1 oz - Orange Juice
• 1 oz - Cranberry Juice



Line up three shot glasses. Pour 1 shot of vodka into each glass. Add a splash of midori to one, a splash of orange juice to another and a splash of cranberry juice to the third. Drink them down Green, Yellow, Red. It's a stop light!.
SIMILAR DRINKS


- Sangria

COCKTAILS STARTING WITH THE LETTER "S"

- SAKE BOMB



- SALTY DOG



- SANGARIA



- SCREW DRIVER



- SEX ON THE BEACH



- STOP LIGHT






— A B C D E F G H I J K L M N O P Q R S T U V W X Y Z



Are you an aspiring bartender? Looking to throw an event at your home? SYRUP Magazine has put together a simple step-by-step "How To" on Stocking a Home Bar.Click here to learn more.