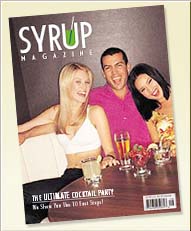 SANGRIA

INGREDIENTS

• 1 bottle - Red Wine
• 1 cup - Orange Juice
• 1 cup - Lemon Juice
• ½ cup - Sugar
• Clove
• Cinnamon Sticks


Mix all together in a pitcher and put in the refrigerator till cold. Add cloves and cinnamon sticks to taste.
TASTES GREAT WITH...


Now that you've created the best Sangria in town. What type of appetizer tastes best with it? Below are some options you might find appetizing:

Pepperjack Cheese - a cheese strong enough to pair with this powerful punch.

Fried Calamari & Shrimp - seafood items perfect for the sangria.

Spicy Meatballs - an appetizer with enough kick to make you crave the sangria.



COCKTAILS STARTING WITH THE LETTER "S"

- SAKE BOMB



- SALTY DOG



- SANGARIA



- SCREW DRIVER



- SEX ON THE BEACH



- STOP LIGHT






— A B C D E F G H I J K L M N O P Q R S T U V W X Y Z



Are you an aspiring bartender? Looking to throw an event at your home? SYRUP Magazine has put together a simple step-by-step "How To" on Stocking a Home Bar.Click here to learn more.