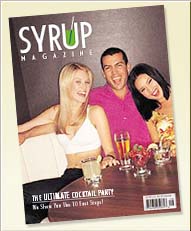 SYRUP MAGAZINE's Top 10 Cocktail Recipes
Sometimes choosing a cocktail or mixed drink can be a difficult task. SYRUP Magazine would like to take the stress out of your day and make your decision a little easier. We selected cocktail recipes from our vast variety of recipes so you can pick the perfect cocktail for the new year.
SYRUP Magazine presents Top Ten Cocktails that will entice your appetite for alcohol appreciation.
Martini

Regardless of the history, the Martini is the perfect addition to the list of historic and classic cocktails. For each generation and for each genre there are many variations to this traditional cocktail.


Melon Ball

This drink may taste light and fruity, but it can pack a punch.



Peanut Butter & Jelly

Like the sandwich, but better!



Jager Bomb

The Red Bull gives you an upward feeling, while the Jager takes you down. Be ready for a hell of a ride.

Apple Pie

This cocktail can be served as a big shot or simple cocktail. Either way, you are sure to get a tasty drink.

Baby Aspirin

Whether you're trying to get rid of a headache, or create one of your own. This cocktail can do the job.

Yellow Cake

Unlike it's counterpart, this cocktail is a flavorful drink that can be substituted as a dessert.

Bald Pussy

YUMMM!!!

Barbary Coast

This classic drink will definitely take you back in time.

Cable Car

This sweet cocktail combines rum and orange curacao, a lovely combination.


Click Here for our Top Ten Summer and Winter Cocktail Recipes



Are you an aspiring bartender? Looking to throw an event at your home? SYRUP Magazine has put together a simple step-by-step "How To" on Stocking a Home Bar.Click here to learn more.