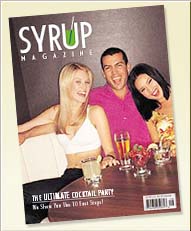 — A B C D E F G H I J
K
L
M
N
O
P
Q
R
S
T
U
V
W
X
Y
Z
COCKTAILS STARTING WITH THE LETTER "R"



- RAGING BULL



- RED SNAPPER



- RISING SUN



- ROCKET FUEL



- RUSTY NAIL

HPNOTIQ

Featured Drink


The recipe for Hpnotiq is one that is as unique as its name. The blend of French Vodka, Fine Cognac, and natural tropical juices make this liqueur tasty but extremely potent. The smooth and velvet like features of this drink make Hpnotiq an enhanced version of fine liqueur. Click more to read more about this new liqueur.



Are you an aspiring bartender? Looking to throw an event at your home? SYRUP Magazine has put together a simple step-by-step "How To" on Stocking a Home Bar.Click here to learn more.