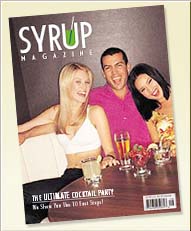 SYRUP Magazine launches the "beta" version of its new online portal for cocktail recipes. Everyone is invited to come test the website and send feedback to the webmaster.

HAPPY NEW YEAR!!! The officail launch of Syrup Magazine is here. Thank you to everyone who helped test the site and sent in their feedback. The portal will be growing fast with a complete directory of bars, nightclubs, and wine clubs coming soon.

The Syrup Magazine Shop is now online. Click here to check it out - and check back frequently - we will be adding new products as we get them.



Are you an aspiring bartender? Looking to throw an event at your home? SYRUP Magazine has put together a simple step-by-step "How To" on Stocking a Home Bar.Click here to learn more.