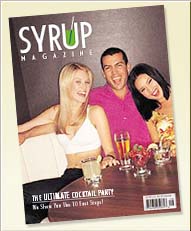 SCREW DRIVER

INGREDIENTS

• 2 oz - Vodka
• 5 oz - Orange Juice



Put 3 ice cubes into a highball glass. Pour in vodka. Fill balance of glass with orange juice, stir, and serve.
DID YOU KNOW?


The first screwdriver was said to be invented in the early 1950's. American oil rig workers in the Middle East used vodka to spice up their supply of canned orange juice. One of the men was seen mixing the concoction with a screwdriver, thus giving it a new name.

Other Variations:
Southern Comfort - Southern Screw
Vanilla Vodka - Creamsicle Screwdriver
Sloe Gin- Slow Screw



COCKTAILS STARTING WITH THE LETTER "S"

- SAKE BOMB



- SALTY DOG



- SANGARIA



- SCREW DRIVER



- SEX ON THE BEACH



- STOP LIGHT






— A B C D E F G H I J K L M N O P Q R S T U V W X Y Z



Are you an aspiring bartender? Looking to throw an event at your home? SYRUP Magazine has put together a simple step-by-step "How To" on Stocking a Home Bar.Click here to learn more.