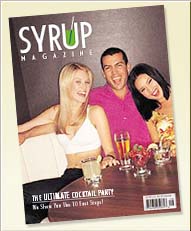 E4.

BUCA DI BEPPO
Summer 1993, the first Buca di Beppo opened in a Minneapolis basement. Their pizzas were as big as bathmats and their pastas and salads that could feed a soccer team..




E3.

DAVE & BUSTER's
Great Food. Great Atmosphere. Tons of FUN! Dave and Buster's has created a class all its own.




E1.

ELEPHANT BAR AND RESTAURANT
From California and Arizona to Kansas and Missouri, The Elephant Bar Restaurant has become a nationally known dining adventure. This extraordinary restaurant has combined fresh cuisine with a rainforest ambiance to create an exotic destination for all ages.




E12.

GORDON BIERSCH
Gordon Biersch Brewing Company is one of the most sought-after brewing companies in the nation. Their custom lager beers complement their flavorful dishes in their signature restaurant, Gordon Biersch.



Are you an aspiring bartender? Looking to throw an event at your home? SYRUP Magazine has put together a simple step-by-step "How To" on Stocking a Home Bar.Click here to learn more.