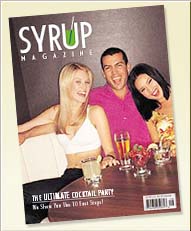 A4.

TIPS OF THE TRADE
Many bartenders have learned trade secrets over time during their professional careers. We have actually cut the learning process in half; and decided to give SYRUP Magazine readers a head start.

A3.

ALCOHOL POISONING
Excessive drinking is extremely dangerous. Some people may find it hard to judge someone's intoxication level. Many different factors affect the level of intoxication in a person, such as their weight, height, body chemistry, and amount of food already eaten. There are many myths about sobering up, some of which include: drinking black coffee, sleeping it off, and taking a bath or shower. All of these myths are not true and do not work. The National Council on Alcoholism and Drug Abuse say the only thing that can reverse the effect of alcohol, is time.

A12.

BECOME A PROFESSIONAL BARTENDER
Becoming a professional bartender is a great way to have fun, enjoy your job, and earn good money. Bartenders are social and outgoing people with great customer service skills.



Are you an aspiring bartender? Looking to throw an event at your home? SYRUP Magazine has put together a simple step-by-step "How To" on Stocking a Home Bar.Click here to learn more.