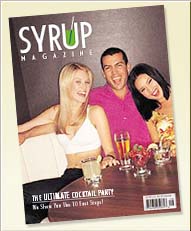 PEACH FUZZ

INGREDIENTS

• 1 oz - Peach Schnapps
• 1 oz - Cranberry Juice




Pour all ingredients into a shot glass and shoot.
COCKTAILS STARTING WITH THE LETTER "P"

- PEACH FUZZ



- PEANUT BUTTER & JELLY



- PEPPERMINT DEPTH CHARGE



- PINA COLADA



- PINK LADY



- POISON APPLE



- PURPLE HOOTER






— A B C D E F G H I J K L M N O P Q R S T U V W X Y Z



Are you an aspiring bartender? Looking to throw an event at your home? SYRUP Magazine has put together a simple step-by-step "How To" on Stocking a Home Bar.Click here to learn more.