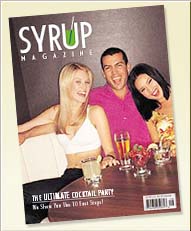 INCREDIBLE HULK

INGREDIENTS

• 2 oz - Hpnotiq
• 2 oz - Cognac




Layer over ice, stir and serve in a cocktail glass.
SIMILAR DRINKS

To read more about HPNOTIQ and other cocktails made with HPNOTIQ click here.

- Dirty Dog



COCKTAILS STARTING WITH THE LETTER "I"

- INCREDIBLE HULK



- IRON BUTTERFLY







— A B C D E F G H I J K L M N O P Q R S T U V W X Y Z



Are you an aspiring bartender? Looking to throw an event at your home? SYRUP Magazine has put together a simple step-by-step "How To" on Stocking a Home Bar.Click here to learn more.