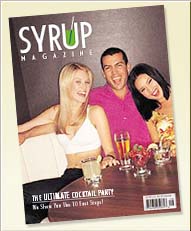 COSMOPOLITAN

INGREDIENTS

• 1 oz - Vodka
• ½ oz - Triple Sec
• ½ oz - Rose's Lime Juice
• ½ oz - Cranberry Juice
• 1 wedge - Lime




Shake vodka, triple sec, lime and cranberry juice vigorously in a shaker with ice. Strain into a martini glass, garnish with a lime wedge on the rim, and serve.
DID YOU KNOW?


It's only been a few years since the Cosmopolitan has changed its name. The cocktail was originally called "Stealth Martini". The popularity of the cocktail traveled from New England to New York, then across the country. Where the "cosmo" came about is unknown, but it will deem as the most "classy" of the classic cocktails.


COCKTAILS STARTING WITH THE LETTER "C"

- CABLE CAR



- CEMENT MIXER



- CHERRY BLOW POP



- CHOCOLATE CAKE



- CHOCOLATE MARTINI



- COSMOPOLITAN



- CRANAPPLE






— A B C D E F G H I J K L M N O P Q R S T U V W X Y Z



Are you an aspiring bartender? Looking to throw an event at your home? SYRUP Magazine has put together a simple step-by-step "How To" on Stocking a Home Bar.Click here to learn more.